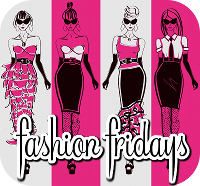 Happy Fashion Friday!! Hosted by the fabulous
KORY
over at Blonde Episodes.
When I think of fashion the first thing that comes to mind is Audrey Hepburn.
Not only is she my idol, but she was beautiful in every way. From her clothing, hair and makeup styles, Audrey was flawless. I loved her best in Breakfast at Tiffany's and everything she wore was amazing. It never mattered if she was wearing pants with a chic top or a designer dress, Audrey Hepburn was a fashion goddess. I wish she was still around because I know she would be just as fabulous today as she was then.

♥Love ya Audrey♥